Recruitment
The coordinator conducted general outreach by hanging posters, posting on volunteer websites, and getting stories in newsletters for like-minded groups. Additionally, the coordinator worked with volunteer centers at local universities and community colleges to post PCGP volunteer listings. The coordinator also tabled regularly at farmers markets and made announcements at meetings for local organizations focused on community service and agriculture, such as Rotary clubs, neighborhood councils, local food policy councils, and fruit growers' associations. Also, the coordinator has worked to host numerous community engagement events, including starting a monthly gleaning discussion group at a local independent book store, hosting fruit tree care demonstrations, a food justice panel discussion at a local university, a food on film series at a local garden, and cooking and garden demonstrations at the St. Leo's Food Connection.
Volunteer Intake and Training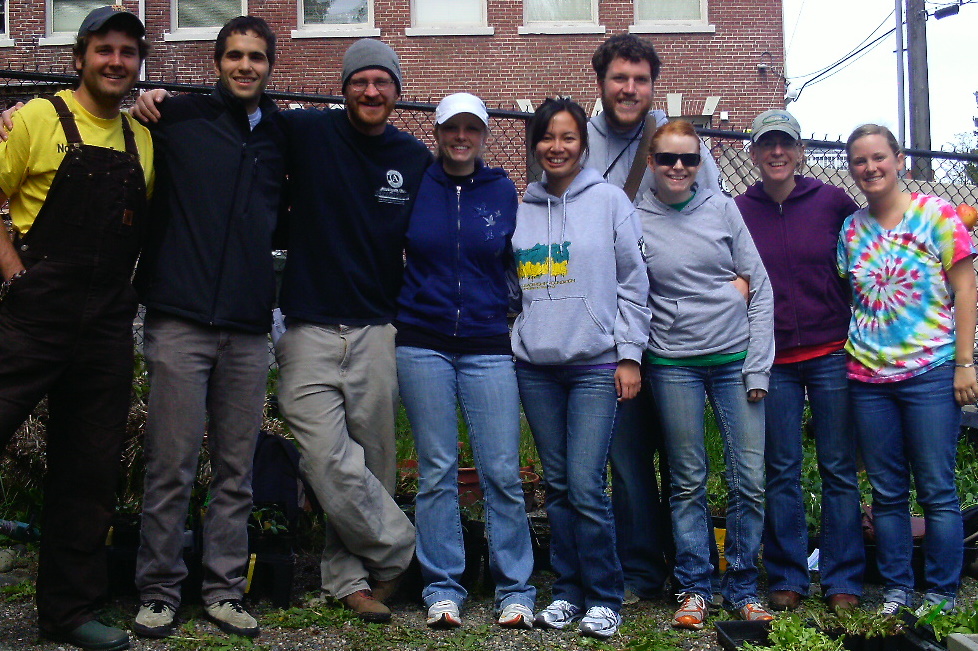 As a result of these efforts, over 170 individuals have signed up to volunteer, and over 70 individuals have volunteered at least once. Volunteer intake consists of filling out an application online or on paper (Volunteer Application) if in-person. Two fruit tree harvest training sessions were offered at public libraries to cover safety and technique using this Training Factsheet. Topics covered: How orchard ladders are designed for being on the grass and must not be used on hard surfaces, such as driveways, and how to pick an apple without damaging the fruiting spur. Volunteers who started later were trained onsite. Farm gleaning volunteers were trained at a local farm, which grows for food banks, before going to a farm to glean. Harvest training for the crop at hand occurred on-site at the farms being gleaned.
Retention
To encourage volunteer retention, the coordinator regularly thanked volunteers in person, through emails and on Facebook postings. The coordinator also emphasized a desire to hear volunteer feedback and ideas, and encouraged volunteers to take as much of a role in the organization as they wanted. At the end of the year the Gleaning Coordinator hosted a volunteer appreciation gathering. The coordinator showed a picture slideshow, printed program t-shirts designed by a volunteer, raffled away gifts, and thanked those who took leadership roles with a small gift.
Volunteer Relations – Lessons Learned
The coordinator found that making individual, personal connections with folks who champion the PCGP was essential to building a core of repeat volunteers. The coordinator also worked to schedule gleans on consistent days so that volunteers could plan their schedules accordingly. The PCGP's decision to have a "low barrier of entry" for volunteers, including a one page application and subsequent RSVP-as-available model, guaranteed flexibility for volunteers. The coordinator also learned it's not only important to ensure comfort of the volunteers by providing snacks, beverages, and access to bathrooms, but that every new volunteer benefits from a field orientation. Such an orientation included a brief rundown of the program's history, the impact of volunteering on the PCGP, and a tour of the property if a farm, orchard, or garden. This tour was not necessary for backyard fruit tree harvests.