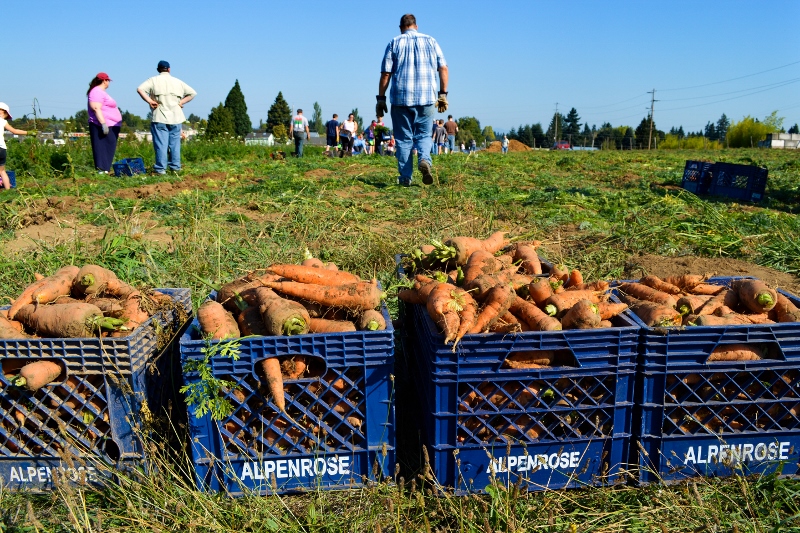 During the summers of 2014 and 2015, Clark County Food Bank participated in Rotary First Harvest's Farm to Food Pantry Program, which provided a small grant to purchase produce from local farmers. The grant money served multiple purposes.
First, Clark County Food Bank was able to access and distribute more fresh produce.
Second, this produce was local, meaning that some transportation costs could be cut and dollars kept in the community.
Finally, this program allowed Clark County Food Bank to build relationships with local growers who otherwise might not have been interested in working with a food bank.
While it is not always feasible for growers to freely give away the food they grow, purchasing their produce allows food banks to establish good rapport and open a conversation about what they do. This motivates farmers to keep food banks in mind in the future if they have extra produce.
The Farm to Food Pantry Program has enabled the Clark County Food Bank to create different kinds of connections with growers, all of which have been very positive. They also help to increase the variety of produce they provide.
Roots to Road Veterans Garden: This is a garden that grows food at the same community farm that the Clark County Food Bank does—the 78th Street Heritage Farm. This unique garden serves to teach veterans farming skills and offer other marketable experience. Even before the Farm to Food Pantry program, they donated produce to the food bank. However, purchasing fruits and vegetables from them allowed the food bank to establish weekly produce drop-offs as well as give funding to a great program.
April Joy Farm: Clark County Food Bank first purchased produce from April Joy Farm in 2014, and then purchased from them again this year. The certified organic farm in Ridgefield, WA runs a CSA program, so they were able to provide a variety of different fruits and vegetables that diversified the food bank's produce offerings. They also donated some produce on top of what was purchased.
Greene Jungle Farm: This farm primarily produces livestock and eggs. However, this year they decided to establish a vegetable garden, and Clark County Food Bank thought it would be a great opportunity to support a new project while getting some fresh veggies. This was an exciting new relationship for Clark County Food Bank because they also received farm fresh eggs and pork alongside the produce.
Wild Roots Farm: A very new farm, Wild Roots Farm operates a small CSA program in Battle Ground, WA. The Farm to Food Pantry program allowed the Clark County Food Bank support a developing grower in their community. They provided a generous bounty, even donating beyond the agreed-upon amount of produce.
Overall, the Farm to Food Pantry program allowed the Clark County Food Bank to support local farmers while increasing access to fresh, locally-grown food.